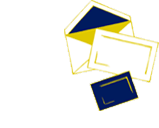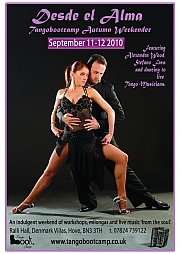 NEXT MILONGAS
Regular freestyle dancing at milongas is one of the surest ways to improve your tango dancing. We run a number of very friendly, non-intimidating milongas for you to enjoy. These are either as part of our decaDance monthly events or as part of our TangoBootCamp weekends. T dances include a fantastic full fat cream tea with sandwiches, scones, and cakes. You do NOT need to have attended the TangoBootCamp coursees to attend any of the milongas.


Aug 14 Milonga at decaDance Ralli Hall £8/£10 adv, £12 door


Sep 11 Milonga @ TangobootCamp Ralli Hall £12adv/ £14 door


Sep 12 Tdance @ TangoBootCamp Ralli Hall £10 adv

Oct 30 Milonga @ TangobootCamp Ralli Hall £8/£10adv/ £12 door


To get advance price simply email us at
info@tangobootcamp.co.uk
or call us on 07824739122. We will then add you to the pre-booked list and you pay advance price on the night. Please note advance prices usually stop a couple of days before the event.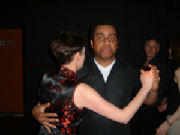 Milonga Venues
Ralli Hall Hove
Ralli Hall is home of our TangoBootCamp workshops. 2 day workshops are held in the gymnasium. One day events and sunday tea dance milongas are held in the main hall. This is a big space with a great wooden floor, lots of tables and chairs etc. For decaDance events at Ralli Hall, we now hold our milongas in a full size downstairs room on beautiful sprung wooden floor. The room will be lit very lightly and a beautiful ambient atmosphere is created away from the main decaDance event.
Denmark Villas, Hove, Bn3 3th
The Loft
Our Milonga is held in the smaller of the two rooms. We play traditional Tango,Milonga,Vals and a cross section of contemporary and Nuevo music from 9.00pm until 02.00am. The main room runs from 9.00pm until 02.00am playing a cross section of more uptempo music across a number of different genres (jive, salsa, blues, westcoast swing, reggae, soul, nuevo tango). This is a great night if you love tango but an even greater night if you also enjoy having a go at other partner dances. Oh and we always have a fabulous dance demo or some live music as well! For more info on decaDance please go to
www.decaDancenights.co.uk
The Loft (above Smugglers + Jazz Place), 10 Ship Street,Brighton ,BN1 1AD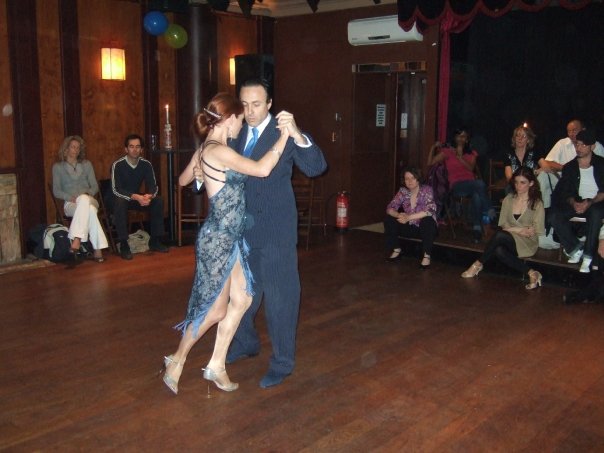 The Brunswick Pub
Right by the seafront near the gorgeous Adelaide Crescent is one of Brighton's nicest evening venues. The decoration in 'the Venue' couldn't be more appropriate for Tango. It is totally self contained, with its own bar. You can even order food to your table. It's soft lighting, wooden walls, lovely floor really wouldn't be out of place in downtown Buenos Aires.
Brunswick Pub,
3 Holland Rd,
Hove

,
BN3 1J